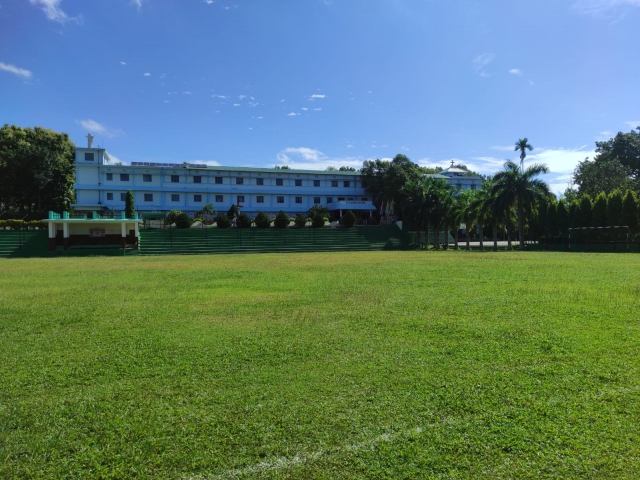 St. Xavier´s Higher Secondary School, Pathaliaghat, is an English medium minority educational institution meant for boys and girls, owned and run by the Salesians of Don Bosco (SDB) which has its headquarters at Shillong, Meghalaya.
St. Xavier´s School was established in 1986 by Mr. Atul Debbarma and handed over to the Salesian Congregation in November 1991. The school is recognized by the Govt. of Tripura and is affiliated to the Central Board of Secondary Education, Delhi (CBSE).
It is inspired by the teaching of Jesus Christ, whose values were love, peace, brotherhood, equality, joy, service and forgiveness. It is a Minority School enjoying the relevant rights and privileges guaranteed by the Indian constitution. As a Catholic and Don Bosco School, its aim is to impart sound education: intellectual, moral and physical to the pupils so as to make them good and useful citizens with a healthy body and mind. Great importance is given to character formation through discipline and moral instruction. In our educative mission, the participation and collaboration of the Educative Community – (Management, staff, students, parents and guardians) – is an indispensable feature.
The sense of shared responsibility and active involvement in order to achieve the common goals and vision of education enables us to form one family. Certain human qualities such as honesty, openness, trust, willingness to serve others, courtesy and thoughtfulness help to foster the family spirit. In this family atmosphere, each teacher will be able to exercise positive influence on the environment of the school, and work in harmony with other, while respecting their view and appreciating their contributions. In our educative Endeavour we strive to form our young people to become honest, active and committed citizens of our Nation, thus making each student responsible in building India according to the spirit of the Constitution, inculcating in them values such as justice, equality, liberty, respect for human dignity, fraternity, unity and service. As Catholic Schools, our first responsibility is towards the Christians of the Parish. It is also open to the children of the local community who are equipped to meet the minimum academic requirements of the school.