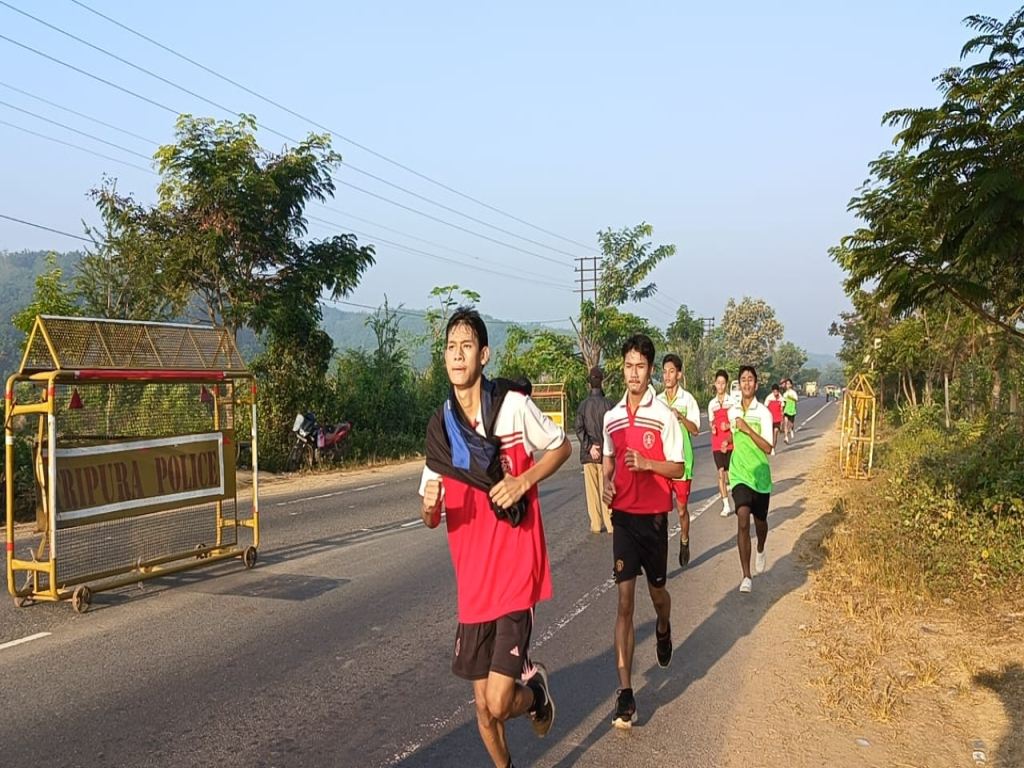 Marathon Race
MARATHON RACE AT ST. XAVIER'S SCHOOL PATHALIAGHAT
In running, it doesn't matter whether you come in first, in the middle of the pack, or last. You can say, 'I have finished.' There is a lot of satisfaction in that".
The bystanders and the residents at Pathaliaghat witnessed a brilliant show of harmony on 11th November 2023 when around 900 school students ran gleefully in the Marathon race organized by St. Xavier's Higher Secondary School Pathaliaghat as part of its Annual Sports Week which begins from 29th November onwards. There were three divisions: The Junior boys and girls, the Inter boys and girls and the Senior boys and girls from all the four houses: Teresa, Nehru, Gandhi and Bosco.
At 5:30 am all the students and teachers gathered in the mini stadium of the school thereafter Principal, Fr. Babu Stephen SDB, led the prayer before the race invoking the assistance and guidance of God Almighty throughout the race and asking Him to protect and watch over every student engaged in this event. Mr. Chiranjit Tripura, the sports secretary of the school gave all the information and guidance concerning the marathon race. Rector, Fr. Blasius Kujur SDB gave a short message of encouragement to all students prior to the race and thanked them for their active participation in this event. Fr. K.A. Thomas SDB and brothers Pynshaibha and Cleophas got the entire necessary things ready prior to the commencement of the race.
The senior boys and girls started their marathon from the School at 6:05 am with flag off done by Fr. Blasius Kujur SDB and ended their run at 6:30 in the school premises. Whereas the inters started at 6:10 am and ended their marathon at 6:40. The junior boys and the girls had their marathon run of 3.7 kms which lasted almost for thirty five minutes. The Seniors had a marathon of 5 kms. The zeal and enthusiasm encouraged the students to complete the entire race. Students were gripped with a feeling of anxiety and nervousness although some runners achieved triumph; others were still satisfied with their attempt to complete the entire marathon. None of the students were injured and the marathon was a success. The school sincerely thanks the teachers, students and their parents for being part of this event and extending all possible help for the success of this event. The school also thanks the Traffic Police personnel for assisting and guiding us along the national highway. The school expresses its gratitude to the community of Pathaliaghat for all help and support and for making this wonderful and enriching opportunity.